Years ago, a trend swept social media and websites where fans were asked to put together their NBA dream team from a $15 budget with players priced between $5 and $1. The objective is to pick the best team possible and ultimately create some debate. While sometimes arguments do break out, it has always been considered harmless fun.
However, yesterday the official WWE On FOX Twitter account did their own version with the women of WWE. Talents like Becky Lynch and Charlotte Flair were priced at $5 each, but Natalya was a budget option, priced just $1. Natalya would see this and was upset at what she perceived to be the account disrespecting her. She'd tweet that she found it hurtful and said to people that understand, she is priceless. You can view her full response and the now-deleted WWE on Fox tweet below.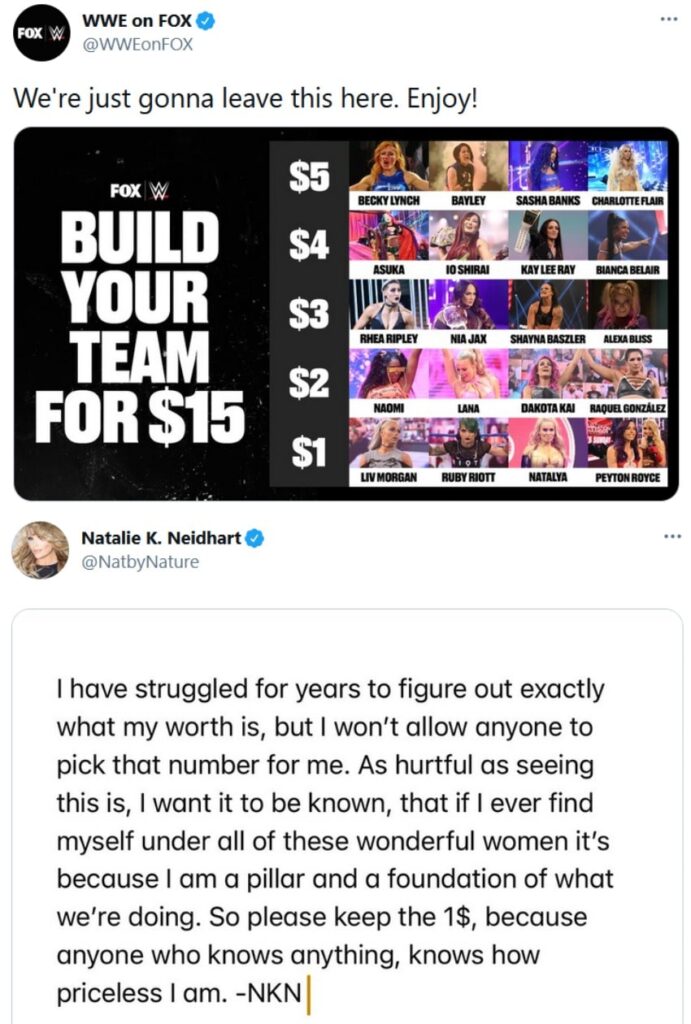 Multiple wrestlers, including Alexa Bliss, Chelsea Green, Matt Cardona, and Shelton Benajmin, came to Natalya's defense of the two-time Women's Champion and shamed the person behind the Twitter account. The person tweeting was likely looking to encourage engagement and make their bosses happy, and no rudeness was meant. Although in this case, it backfired and resulted in a lot of backlash.