Ric Flair's WWE release came out of nowhere after he challenged Vince Mcmhon about his daughter Charlotte's booking. Flair says he quit, while some claim he was fired, but regardless of the circumstances, the end result is he is no longer with the promotion. Despite this WWE, and proving that Flair's departure was unexpected, the company has released a limited-edition championship title with a genuine leather strap housed in a diamond case, with 16 Swarovski Crystals to represent all of his 16 world championship victories.
Also accompanying the belt is a robe, which appears to be based on what Flair wore at WrestleMania 24 when he wrestled his final WWE match. Unfortunately for fans, only 500 are available, however, the $999 price will ensuring only the most affluent Flair fans will be able to afford it. More information is available on WWE Shop.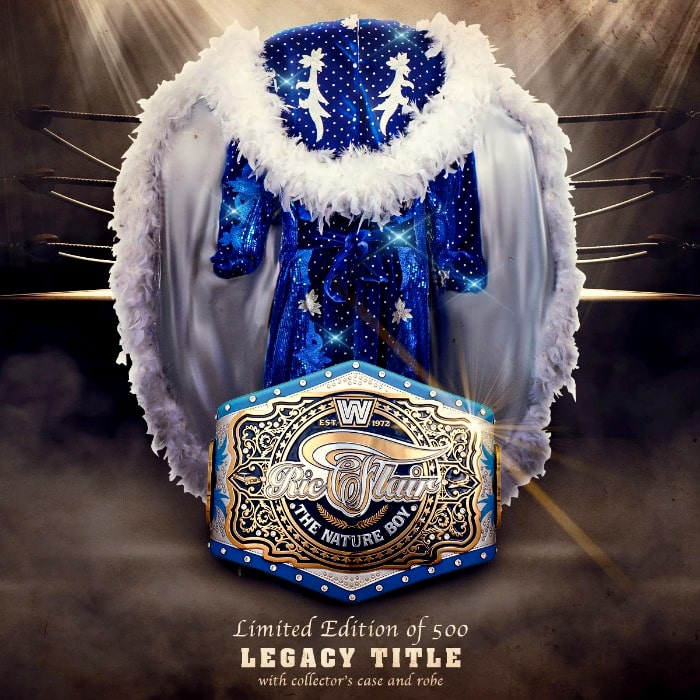 Since leaving WWE, Flair has been keeping busy making special appearances. His first post-WWE show saw him accompany his future son-in-law Andrade at TripleMania, and later on, he would cut a promo for Billy Corgan's NWA during their NWA 73 event. As soon as he left WWE, it was speculated he would end up with AEW, and given that Andrade hit and left his current manager Chavo Guerrero Jr. laying on Rampage, it appears a spot has been created for him.

Latest posts by James Ryder
(see all)