"Cobra Kai" is a martial arts comedy-drama series and an ongoing sequel to the classic "Karate Kid" films of the 1980s. The hit Netflix show dropped its fifth season this week, which centers around super-villain Terry Silver (Thomas Ian Griffith). The ultra-rich Silver is set on Cobra Kai Karate becoming "a lot bigger than just the Valley," and with more students than ever before, Silver has recruited more senseis to pass along his evil teachings. He also still appears hell-bent on destroying the life of Daniel LaRusso (Ralph Macchio). 
"Cobra Kai" has been nominated for numerous awards, and the show features plenty of hard rock and heavy metal. The season 5 trailer was set to the Judas Priest classic "You Got Another Thing Coming." Season 3 of the show even included a cameo from Dee Snider. Other songs in the series so far include "Lay It Down" (Ratt), "Kickstart My Heart" (Motley Crue), "Here I Go Again" (Whitesnake), "We're Not Gonna Take It" (Twisted Sister), "The Kids Are Back" (Twisted Sister), "I Want It All" (Queen), "I Wanna Be Somebody" (W.A.S.P.), "Take It On The Run" (REO Speedwagon), "Nothing But A Good Time" (Poison), "Round and Round" (Ratt), among many others. 
Chris Jericho and his wrestling prowess got a shoutout in season 3 during a conversation between Cobra Kai students. Now, FOZZY has also received a mention in the show via the character, Stingray (Paul Walter Hauser), who sings the band's hit song, "Judas," in a scene where he returns to his new place. The song is playing in his car, and Stingray continues singing it as he enters his pad. Hauser is a professional wrestling fan, and he even added a few AEW references into the 2021 comedy, "Queenpins," where he appeared alongside Kristen Bell and Vince Vaughn. 
Hauser is also responsible for "Judas" in "Cobra Kai," according to a recent interview with Decider.  "That was Paul," Cobra Kai co-creators Jon Hurwitz, Josh Heald, and Hayden Schlossberg said. "It's so funny because we're on set and we have our production hats on, and he's singing this song, which means there's an expense associated with it if we keep it. So we had a version where he wasn't singing the song, and we filmed that as well. But we just thought it worked so well… dramatically, we like that touch for the character. So we ponied up and paid a little money."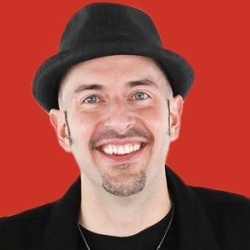 Latest posts by B.J. LISKO
(see all)