**Buy your autographed Chris Jericho photos, action figures, and Funko Pops now!**
CM Punk made his triumphant return to the wrestling ring this past Sunday, wrestling Darby Allin. While fans in Chicago were delighted to see him in action for the first time in almost eight years, his unfamiliar attire did cause some discussion. Punk was wearing long tights with stars down the side, and while there was nothing wrong with them, it was strange seeing him wearing that style of gear for many.
Seemingly Punk heard about the debate as he would post a poll on Twitter asking fans if they preferred the long-style tights, short trunks, or possibly an Andre the Giant singlet. Voting was only available for a few minutes before the poll was deleted. Still, as you can see in the below screenshot, short trunks were comfortably winning.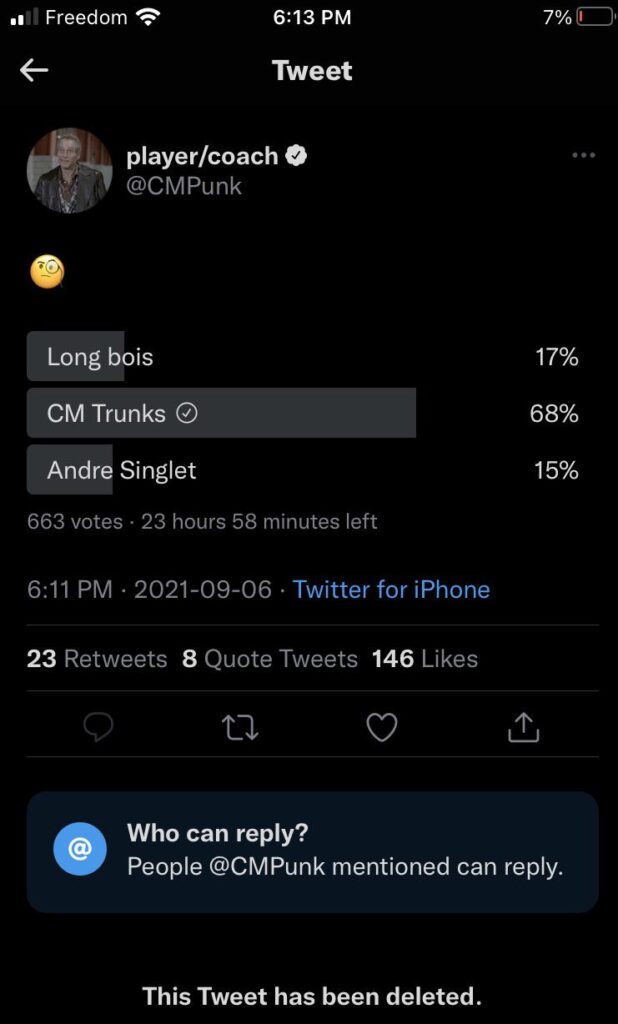 It will now be interesting to see whether Punk takes the feedback onboard and reverts to short trunks like fans remember him wearing in WWE or sticks to the new long style. Punk has previously stated that he wore short trunks to appeal to Vince McMahon after recognizing that most of the wrestlers he pushed wore them. Obviously, he no longer needs to appeal to McMahon, so he can wear what he wants, and with him contracted for 10-12 matches per year, fans will get plenty of opportunities to become accustomed to his decision.