Angel Garza was one of Paul Heyman's projects when he was in charge of writing Raw, however, once he was removed from his role, Garza became just another guy on the roster and is now playing a comedy lothario character. He'd get to win the WWE 24/7 Championship from R-Truth on TikTok (yes, really) during a New Year's Eve party, and during Monday's Raw Legends Night would hit on Alicia Fox and Mickie James. After being unsuccessful with them, he'd interrupt Torrie Wilson, who was chatting to Nikki Cross and was told that Kylie Jenner, Ariana Grande, and Cardi B were in a room down the hall. Of course, in typical WWE style, it turned out to be The Boogeyman waiting, who frightened Garza, resulting in him quickly exiting the room and being pinned by a waiting R-Truth.
It was the usual WWE 24/7 Championship comedy skit fans have come to expect, although due to dropping Cardi B's name, it got the Grammy Award winners' attention as wrestling fans began tweeting her on mass. In her Twitter replies, she'd say that she used to be a WWE fan in her early teens when talents like Booker T, Eddie Guerrero, Batista, John Cena, and Melina were the companies stars but doesn't watch now. You can view a selection of her tweets below.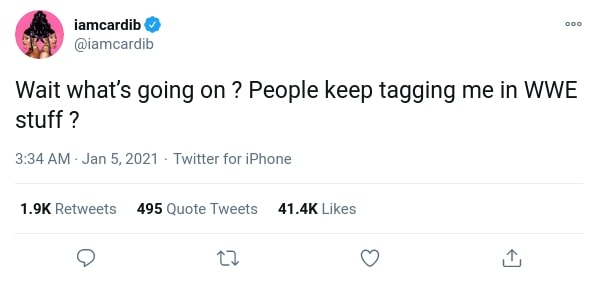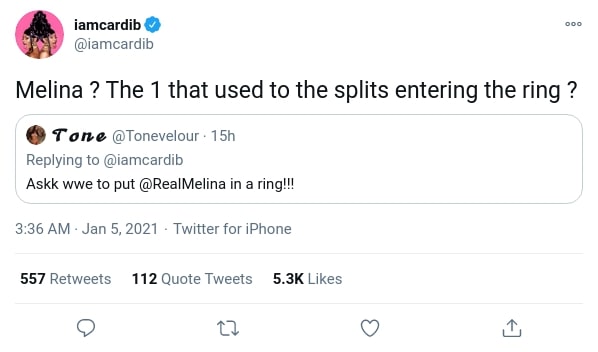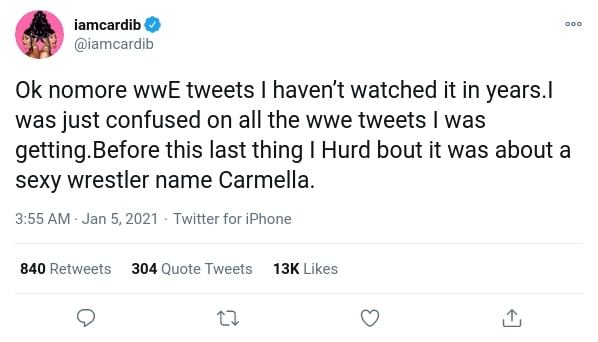 With WWE always looking for mainstream attention, these tweets will have pleased the company, and they published an article on WWE.com about her tweeting about them. They did, though, choose to omit to mention the tweet where she said she hadn't watched in years. That, though, likely won't stop the company from reaching out to her management if they feel her appearance would boost ratings.

Latest posts by James Ryder
(see all)