Nickla Roberts, better known to old school wrestling fans as Baby Doll isn't happy with Nyla Rose, "taking the spot a woman should have."
During a discussion in the Kult of Kayfabe Facebook group, she made the below comments on a thread discussing Nyla Rose possibly being the first AEW woman's champion. For those unaware Nyla Rose is the first transgender woman to sign with a major American wrestling organization.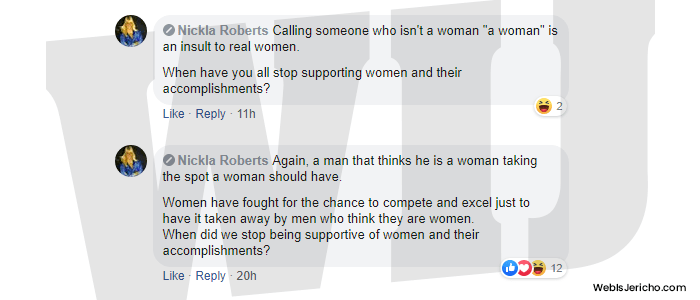 Due to the nature of her comments, and the vitriol she was receiving from other members of the group, she ended up being removed by an admin.
It's unfortunate that in 2019 transphobic views are still so prevalent, especially when they come from a veteran in the wrestling business towards an upcoming performer who is trying to break down barriers.
Thank you to Robert Miqueli for sending this to us.