Roman Reigns retained the Universal Championship by pinning both Daniel Bryan and Edge at the same time in WrestleMania's night 2's main event. Edge had given Bryan a con-chair-to, and when he went to do the same to Reigns, he was attacked by Jey Uso. This gave Reigns time to recover, and he'd hit the Royal Rumble winner with a spear followed by a con-chair-to of his own.
The finish made Reigns look dominant and was a unique way to end the match. However, following the show, a fan pointed out on Twitter that Edge was also pinning Bryan, technically giving him a claim on being Universal Champion. The tweet would draw the attention of both on-screen official Adam Pearce and referee Charles Robinson, as you can see below.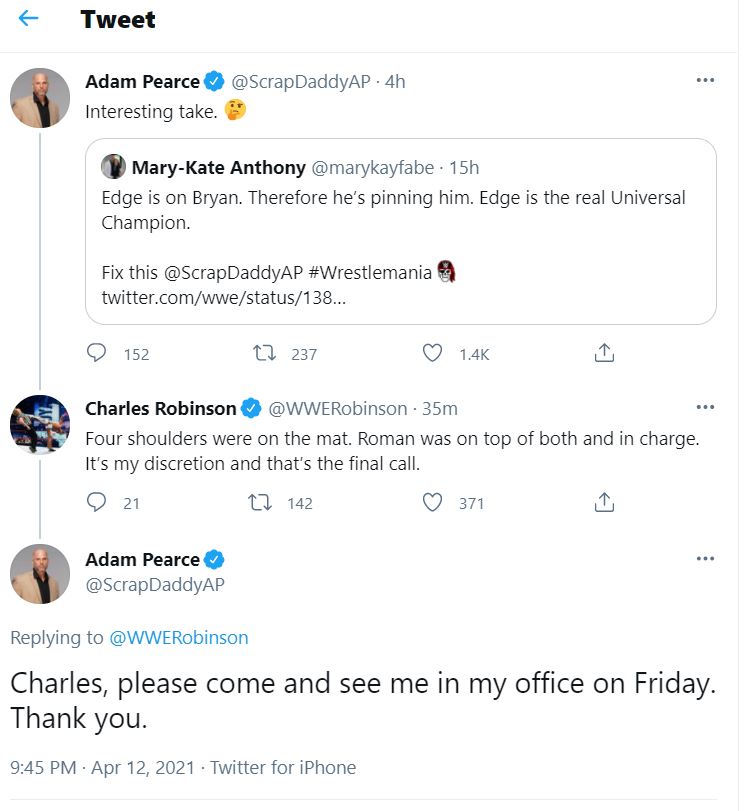 This could simply be Pearce having some fun on Twitter, although it could also indicate WWE is planning on turning the pinfall situation into an angle. The fact this year's Backlash pay-per-view, scheduled for Sunday, May 16, has been titled WrestleMania Backlash seemingly indicates the show will feature rematches. Additionally, Reigns currently has no top contenders built up strongly enough to challenge him, so Reigns vs. Edge could be set to headline WrestleMania Backlash.