The release of Bray Wyatt has been the main topic of discussion on Twitter amongst wrestling fans, with even wrestlers sharing their opinion on the matter. Chelsea Green, herself recently released by WWE and now working with both Impact Wrestling and Ring of Honor, would tweet out a photo of herself with Wyatt tagged in, saying she was waiting for him to join her in the dark side.
While most fans took this as an innocent tweet inviting him to work with her, one fan called Sarah would reply to Green and call her a leech (incorrectly written as leach) for trying to associate herself with Wyatt. Additionally, they would insult her fiancé Matt Cardona in the process. This prompted Cardona to respond by saying "F*ck you Sarah" to the so-called fan.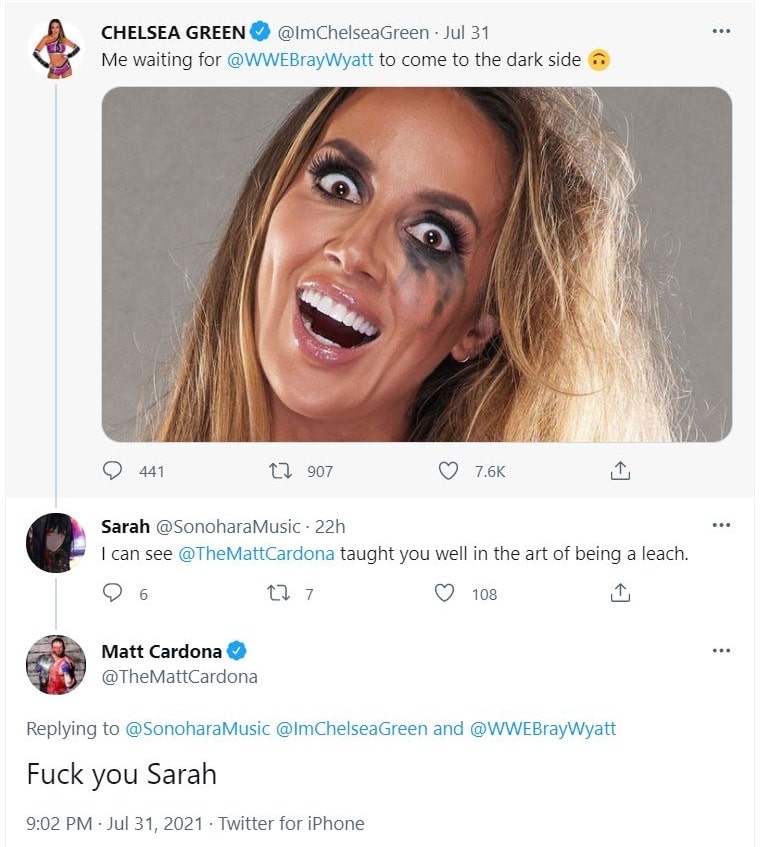 Social media often brings the worst out in people, and some claiming to be fans use the opportunity to post anonymously and insult celebrities. While in most instances, those offended will ignore the abuse and block the fan if it is highly offensive or persistent. However, Cardona wasn't prepared to let Green be harassed like this and fired back harshly.

Latest posts by James Ryder
(see all)