As previously reported, WWE is not happy with Vickie Guerrero working with AEW. She did guest commentary on the December 11 edition of Dark and was also in attendance on Chris Jericho's cruise. They've stopped their talent from appearing on her podcast, and Billy Graham has weighed in condemning Vince McMahon as "the single most evil human being walking the face of the earth" on his personal Facebook page.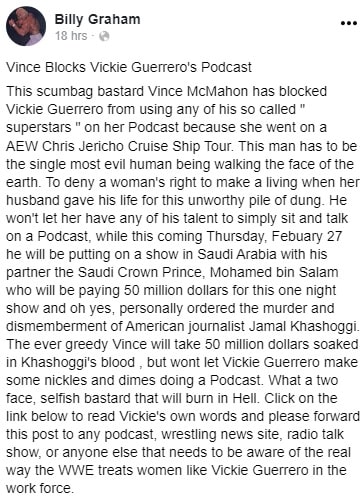 Billy Graham has had a love-hate relationship with Vince McMahon for many years, loving him when he is part of the WWE, and hating him when not.
Billy Graham famously lied about Vince McMahon's right-hand man Pat Patterson on The Phil Donahue Show in 1992, claiming he was involved in the molestation of young boys. Despite apologizing to Patterson years later, he would not be forgiven by him but would make up with McMahon. He would defend Vince McMahon and WWE following the deaths of Eddie Guerrero and Chris Benoit, but would later declare his Hall of Fame ring as meaningless following his $2,000 a month consultancy contract not being renewed and WWE attempting to stop him using the "Superstar Billy Graham" name. He would later sign a Legends deal in 2015, but when that expired, he began scrutinizing Vince McMahan and WWE again.