Guitarist Andy Williams, known as "The Butcher" in All Elite Wrestling, recently teased a new musical project when he posted a video of himself jamming with former Every Time I Die drummer, Mike "Ratboy" Novak. 
It appears there are three projects in the works featuring former members of Every Time I Die, including one from vocalist Keith Buckley, who said he's got his own new band brewing. 
It was thought that Williams would also be involved in a new project that features guitarist Jordan Buckley, bassist Stephen Micciche and drummer Clayton Holyoak.
Jordan Buckley has now confirmed in an Instagram comment that Williams is not a part of the band due to his schedule as a professional wrestler. "Andy is not [in the band]," said Buckley. "He's a full time wrestler and can't tour full time at the moment." 
In a podcast last year with AEW's Renée Paquette, Williams discussed the similarities between his job as a guitarist and his job as a grappler — and it's all to do with his unique way of writing music.
"I don't know how to read music," he explained. "I just picked up a guitar and it just made sense. To me, it was more like Tetris than anything. I would just make these shapes up in my head and I would play these shapes. If I wrote out music, it would only make sense to me and the dudes I was in the band with. A lot of it is like X's and O's, or I'll use squares for certain things and triangles for certain things. It really turned into more of, like, a video game to me than making music."
"Wrestling, to me, is like writing a song," he continued. "Once I kind of understood how to write that 'song', it was like, 'Oh, ok, that's cool – there's an intro, there's an outro, there's a chorus.' It really does work like that."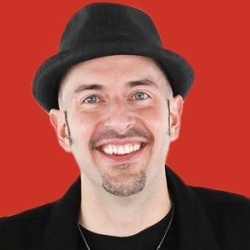 Latest posts by B.J. LISKO
(see all)