In anticipation of the upcoming return season of Vince McMahon's XFL, official team names and logos have been revealed. The announcements were made by XFL CEO and commissioner Oliver Luck, ESPN's Laura Rutledge, and Fox Sports' Colin Cowherd.
The teams along with their Head Coach/General Manager are listed below.
St. Louis BattleHawks – Head Coach/GM – Jonathan Hayes
Tampa Bay Vipers – Head Coach/GM – Marc Trestman
New York Guardians – Head Coach/GM – Kevin Gilbride
Seattle Dragons – Head Coach/GM – Jim Zorn
LA Wildcats – Head Coach/GM – Winston Moss
DC Defenders – Head Coach/GM – Pep Hamilton
Houston Roughnecks – Head Coach/GM – June Jones
Dallas Renegades – Head Coach/GM – Bob Stoops
And here are the logos: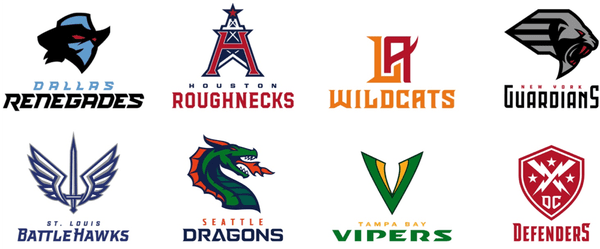 The new season of the XFL kicks off Saturday, February 8 and Sunday, February 9, 2020.
Back in May, the XFL announced their television deal which will see games air on ABC, FOX, ESPN, ESPN2, and FS1. The playoffs will happen on April 18 and April 19, with the championship game on ESPN on April 26.