Dark Side of the Ring first premiered on Viceland in 2019 and was a big enough success to have a second season. The finale of the second season, based on Owen Hart's death, would give Vice its highest ever-rated program with 626,000 viewers. A third season is currently filming, and over recent months tidbits have come out revealing the topics. David Arquette let slip in an interview that he'd been spoken to about a Nick Gage episode. Eric Bischoff told listeners of his podcast that he was interviewed about Brian Pillman and the Collision In Korea show. Additionally, PWInsider reported that Jake "The Snake" Roberts has been interviewed about his father Grizzly Smith, who he holds responsible for his substance abuse issues. Now, Super Genie, the parter of Sabu, has shared photos of him being filmed for interviews, and he would later confirm were for episodes on Frontier Martial-Arts Wrestling and Xtreme Pro Wrestling.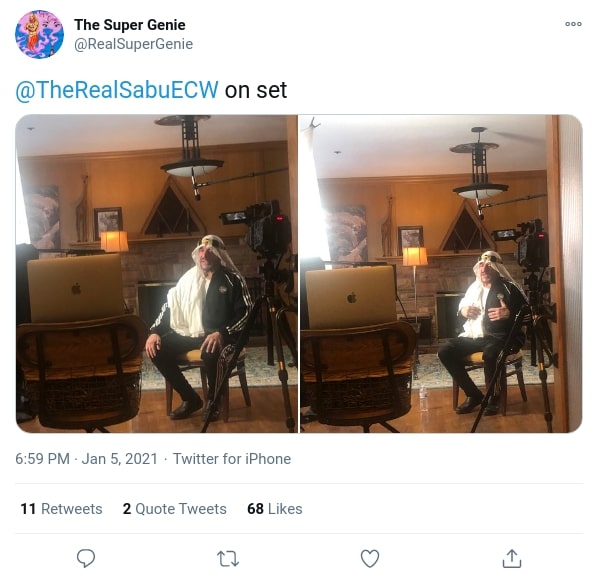 Sabu wrestled for Japanese promotion FMW between 1991 and 1994 and is where the majority of the scars on his body occurred. In many ways, the promotion was the precursor to Extreme Championship Wrestling, and like Paul Heyman's promotion would go bankrupt. Though, with part of the money being owed to the Yakuza, who do not recognize bankruptcy laws, the owner Shoichi Arai went into hiding before sadly hanging himself so his family could pay a portion of the debt from his life insurance.
Regarding XPW, Sabu wrestled for them in 2000 and 2001 and held the promotions World Heavyweight Championship. The promotion was run by Rob Black, who owned an adult film company and ended up spending time in prison due to the distribution of obscene videos. During the XPW's existence, there were enough incidents to fill an entire season of Dark Side of the Ring. These include an attempt to advertise their show during an ECW pay-per-view and resulted in a parking lot brawl, a wrestler receiving second-degree burns during a match, New Jack throwing Vic Grimes off a 40ft scaffold, and most famously, one of their wrestlers, named Messiah, having his thumb cut off.
Some allege that Black may have orchestrated the attack on Messiah, as the wrestler had an affair with Black's wife. It should be noted police never named Black as an official suspect. The incident was covered by America's Most Wanted, and you can watch the segment below.