With a powerhouse voice channeling the likes of Benetar, Beck, Jett and Aaron, British singer Chez Kane sports a soaring battle cry that announces her presence with authority. For years, she's been one of three singing sisters in modern hard rockers, Kane'd. But when asked about what it's been like to take the main spotlight as the singer of the '80s-style hard rock band bearing only her name, Kane is unusually quiet as she pauses to contemplate her answer.

"It's pretty mind-blowing," Kane said with a slight laugh rooted in amazement. "I still can't believe what's going on, to be honest. I didn't know how the album was gonna take off."

"Take off" is putting it mildly. Kane's debut, released March 12 via Frontiers Records, has taken the melodic and hard rock world by storm. Produced and written by Danny Rexon of Crazy Lixx, it's a bombastic, feel good, fists-in-the-air throwback to the Decade of Decadence. Sultry in spots, anthemic in others, Kane's debut is the best record from 1987 not released in 1987.

"Every day there's something new," she said. "There's new people reaching out to me from all over the world, and it feels like a bit of a dream that I haven't woken up from yet. I'm just taking it all in and trying to enjoy it."

She's trying to get some Z's while she's at it.

"I'm not sleeping very well, I gotta be honest," she said with a laugh. "My head is constantly on the go, but it's a very nice feeling."
Here are some fast facts from a recent Zoom call with Kane. Her album is available now at Frontiers.shop.

This project came out of the blue
"Basically, I started doing covers on YouTube, and I didn't think anything of it. But I'm really glad I did, because that's how Danny ended up finding me for this project. He was looking for a female singer to front this project that he had,. He came across one of my covers, and here I am!"

She's flattered by the comparisons to icons of the hard rock genre
"The one I looked up to the most, and the first one I discovered was Pat Benetar. My sister was playing Pat Benetar, and I was absolutely in love with that album. Then I discovered Robin Beck. To be in the same category as these amazing women is pretty insane. I can't quite believe it to be honest."

She's not intimidated by the comparisons, either
"I don't feel intimated by it. I didn't know how the album was gonna be accepted, because obviously it is hitting on that '80s feel and bringing it back to life today. But for some reason, everybody is very, very happy about it. I feel like (that '80s style) has been lost for a long time. I think it's been missing, and Danny does as well. So I hope that I'm the start of bringing it back."

One song on the record was a "ballbreaker" to sing
"Everything I sing can be a challenge. I feel like Danny sent some songs over that were like that, and "Midnight Rendezvous" was a hell of a challenge. It's way up there vocally — the ballbreaker of the album. But I sing from the heart, I sing as me, I have loads of inspirations, and they've kind of rubbed off on me over the years. I feel like I've taken inspiration from so many different people, but the way I sing the songs is all me."

Working with Rexon was a breeze — outside of the pandemic
"It's been really nice to work with somebody that's so down to earth. We both have the same vision, and we just clicked really well. Everything we've been sending back and forth to each other, we had the same vision. We just work really well together. It was kind of annoying when COVID hit, because when we decided we were gonna be doing this project, it was before the pandemic. The plan was that either he was gonna fly into the UK or I was gonna fly to Sweden, but obviously that couldn't happen. It did put the project back about six months, but I was able to do the vocals, thankfully, at home. I recorded all the vocals in South Wales, and Danny did the rest in Sweden."

She's got a live band set to make its debut later this year
"I keep thinking the second I step on stage with this band, I'm just gonna be like, "Oh my God!" I'm super excited, and I can't wait, and there's definitely gonna be some nerves, but I think the adrenaline is gonna take over, and I'm gonna love it. But it will go by very fast. Then I'll be like, "I want to go back out there!" I think I would already be out touring if I could right now. I love performing live. It's the fun part to me, and I'm gutted that I'm not able to be out there right now. But yes, as soon as I can, a tour would be awesome."

Kane, along with the rest of the world, is ready to have fun again
"I feel like we've all had such a bad year, that people are craving this kind of music again. The fun music that picks up your spirits. I feel like that might be one of the reasons why it's becoming a thing and people are spreading my album everywhere. It is that kind of music that just makes you happy, and we all need that right now."

"Rocket on the Radio" is going to be a summer anthem for years to come
"When Danny sent it, instantly I was like, 'This is a summer anthem!' It's awesome. The lyrics say it all. 'Cruising with the windows down,' you can just feel being in the car with the widows down, and just being like (throws horns up and laughs) 'Yeah!' So when I heard it for the first time, I was absolutely super excited, and I can't wait to perform it live. It's gonna be one of those songs where everybody, hopefully (crosses fingers), is singing along with me. I love the song. It's awesome."

"Too Late For Love" was her "perfect introduction"
"It's gotta be my second favorite song on the album. I just feel like it really hits on what we were trying to achieve with the album in bringing back that style for today. It's got the sexy, sassy feel, and I just feel like it was the perfect song to introduce Chez Kane to the world."

"Better Than Love" wouldn't at all be out of place in a romantic '80s flick
"It's my favorite. It's the first track that I demoed for Danny, and it's the song that made me fall in love with the project. It means a lot to me, that one. And the sax solo! (played by Jesse Molloy) Come on! It's just like the perfect movie soundtrack song. I love it!"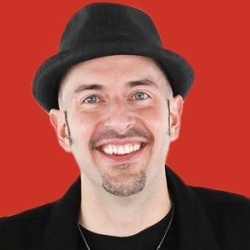 Latest posts by B.J. LISKO
(see all)