Knotfest and Forcefest are two massive festivals combining over one weekend for the first time in Mexico City. The event is titled "Knotfest Meets Forcefest," with Knotfest scheduled to have been headlined by Slipknot on Saturday, and Forcefest by Rob Zombie on Sunday.
Things went seriously wrong on Saturday when headliners Slipknot and Evanescence had to cancel their sets after the stage barricade broke and it was not able to be repaired. Fans took this news badly and some stormed the staged and destroyed equipment including Evanescence's. A video showing this is below.
Slipknot would post the below message on Twitter earlier today explaining the situation to their fans.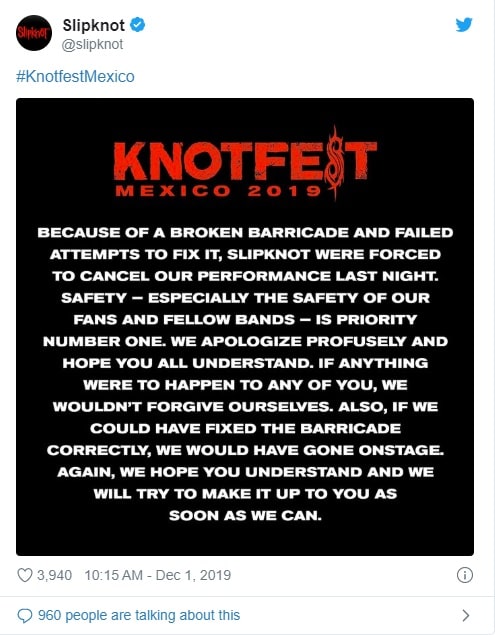 Evanescence would also address fans in a video message on Instagram with Amy Lee saying:
"Mexico City, we are so, so disappointed that we didn't get our chance to play for you tonight at Knotfest. The last couple of bands didn't get to play because of a safety issue with the barricades and it wasn't something that could be fixed. We are so sorry. We love you so much. We were waiting there, just like you, hoping that we would get our chance, but it didn't work out tonight. I don't know how, but somehow we are going to make it up to you. We love you so much. We'll see you next time."
Let's hope day two is incident-free.