"Cobra Kai" is an American martial arts comedy-drama series and a sequel to the classic "Karate Kid" films of the 1980s. The hit Netflix show dropped its season 5 preview on Tuesday, and it includes more than two minutes of teases that highlight just how much of a super-villain Terry Silver (Thomas Ian Griffith) has become since fans saw his return to the franchise in season 4. The scenes are also soundtracked by the Judas Priest hit "You Got Another Thing Coming."
The ultra-rich Silver is set on Cobra Kai Karate becoming "a lot bigger than just the Valley," and with more students than ever before, Silver apparently has recruited more senseis to pass along his evil teachings. He still appears hell-bent on destroying the life of Daniel LaRusso (Ralph Macchio).
"Cobra Kai" has been nominated for numerous awards, and the show features a good deal of hard rock and heavy metal. Season 3 even included a cameo from Dee Snider. Other songs in the series so far include "Lay It Down" (Ratt), "Kickstart My Heart" (Motley Crue), "Here I Go Again" (Whitesnake), "We're Not Gonna Take It" (Twisted Sister), "The Kids Are Back" (Twisted Sister), "I Want It All" (Queen), "I Wanna Be Somebody" (W.A.S.P.), "Take It On The Run" (REO Speedwagon), "Nothing But A Good Time" (Poison), "Round and Round" (Ratt), among many others.
The show is also chalked full of metal T-shirts and references. In one scene, the recurring character of Raymond (also known as "Stingray," played by Paul Walter Hauser) is confronted by a neighbor who complains to him that someone was "blaring sh*tty Metallica all night." Raymond unsympathetically responds, "Yeah, that was actually Exodus' Bonded by Blood. But it's not your fault, you don't know the genre."
The character of Johnny Lawrence (played by William Zabka), also frequently professes his love for hard rock and metal and has worn shirts by Metallica, Zebra and Van Halen. "Yes, Billy Zabka does love hair metal," Zabka told Guitar World. "I lean more toward the Def Leppards, the Whitesnakes, the Van Halens. I'm all things '80s rock. That was my music."
Zabka also told a story about meeting and getting a lesson from Eddie Van Halen during a VH concert at the Hollywood Bowl. "And I bumped into a good friend of mine, Janie, who had actually married Eddie," Zabka said. "And she said, 'Do you want to go and meet Eddie?' I'm like, 'Are you kidding? Yes, I want to go meet Eddie!'" He continued, "So I'm with a few of my buddies, and we all get in an elevator and go downstairs to the dressing room… and there's Eddie Van Halen. And he was just the nicest guy. At one point he hands me his guitar and he says, 'You play?' I go, 'A little bit – let me show you my version of Ain't Talkin' 'bout Love.' So I go into it, and I'm playing it up on the fretboard. He goes, 'No, man, no.' And he literally gets behind me and starts playing the notes and showing me how it's just a simple A minor thing. And then a few minutes later he's like, 'All right, I gotta get ready.' It was so epic."
Actor Martin Kove, who stars as sensei John Kreese, also previously appeared on an episode of Talk Is Jericho.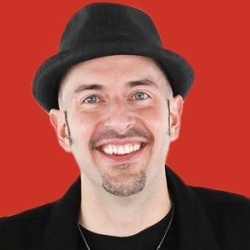 Latest posts by B.J. LISKO
(see all)